Planned Changes to the UCI Google Workspace Service
As part of OIT's ongoing security initiative, changes are planned for the UCI Google Workspace service that will affect all Google users. These changes are intended to further protect UCI accounts from unauthorized access. 
On Tuesday, January 25, 2022, OIT will make the following changes: 
Require UCI Single Sign-On to access all Google services like Gmail and Google Drive. Duo MFA will also be required for all users already enrolled in Duo.

 

Disable the 'less secure apps' (LSA) feature which allows third-party mail clients like Apple Mail and Microsoft Outlook to connect to Gmail using a legacy authentication method (see below)

Disable the POP mail protocol

 
Third-Party Mail Clients
Third-party mail clients can still be used if they are "OAuth-compatible," meaning they use a modern, secure method of connecting to cloud-based mail services like Gmail. The following mail clients have been tested and are compatible: 
Apple Mail running on macOS 10.14 (Mojave) and above
iOS Mail running on iOS 11.3.1 and above
Microsoft Outlook 365 and Outlook 2019, any version (Outlook 2016 may not work due to known limitations)
Mozilla Thunderbird version 78 and above
Outlook Mobile (iOS & Android, all versions)
Android Gmail app – Android 8.1 and above
iOS Gmail app (all versions)
Users using an incompatible mail client will need to upgrade to a newer client. Users working on OIT-managed work computers should email oit@uci.edu for assistance. 
What To Expect
Starting January 25, 2022, users will see the familiar UCI Single Sign-On screen in their mail client or Google Drive prompting them to sign in with their UCInetID and password.  The Duo MFA prompt will also be displayed for users already enrolled in Duo. Upon completion of the login process, users once again be able to send & receive email and access Google Drive.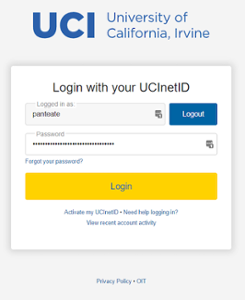 Note: Some users may not see the UCI login screen on January 25

. This delay is normal due to the time it takes for changes on Google's servers to sync with clients.

 

Retirees and alumni are not required to enroll in Duo at this time; however, they may elect to enroll:

https://www.oit.uci.edu/duo/

 

Group UCInetIDs with Google accounts will be included in the January 25 deadline but will not be required to enroll in Duo at this time.
Apple Mail & Mozilla Thunderbird users can check their settings before January 25 to ensure their email will continue to flow uninterrupted.
Need Assistance?
Setup & troubleshooting instructions are available. For questions or assistance, contact the OIT Help Desk at oit@uci.edu or (949) 824-2222.